BRATECK Electric Sit-Stand Workstation (Black)
BRATECK Electric Sit-Stand Workstation (Black)
Product Code: DWS18-01BLK

$276.00
Inc GST
$240.00 Exc GST
Free Shipping NationalWide
Christchurch
South Island
North Island
1 day
1 day
2 days
Ask About This Product
Ask About This Product
Term Selector

Get It Now from
$ per week

Online Application
(click here)
BRATECK Electric Sit-Stand Workstation (Black)

BRATECK Electric Sit-Stand Workstation, Height adjustable 156-485mm Work surface size 800x400mm (LxW). Work surface weight cap. 20kgs. Colour Black
Sit-stand workstations are the easiest and the most versatile method to convert any desk to sit-stand desks. Best of all, there is no need to replace existing furniture and desks-simply unbox and place the workstations on the desktop. DWS18-01 even makes the easy products easier. Powerful motor lifts a heavy load on the work surface with a touch of a button. The motor driven mode avoids the awkward forward posture while lifting regular workstation–the posture increases the heavy load on the lumbar area. Quiet motion prevents interrupting the working environment. Sophisticated motion control generates a smooth and stable adjustment.
Features
Strong motor ensures a very high stability level

Easy-to-use press controller makes height adjustment easy

Large surface for placing more devices

Cable Management: keeps everything organized
Specifications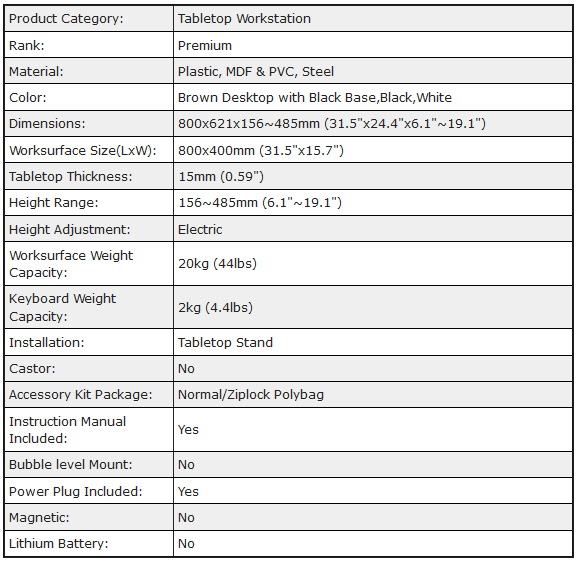 Site by Silicon Dream
Legend PC © 2019
All prices are shown in New Zealand Dollars and include GST unless otherwise stated.