Legend PC - Blade II Gaming Rig - (i7-8700k, 16GB, RTX2070, 256GB+4TB)
Legend PC - Blade II Gaming Rig - (i7-8700k, 16GB, RTX2070, 256GB+4TB)
Product Code: SYS-BLADEII

$3,899.00
Inc GST
$3,390.43 Exc GST
Free Shipping NationalWide
Christchurch
South Island
North Island
1 day
1 day
2 days
Ask About This Product
Ask About This Product
Term Selector

Get It Now from
$ per week

Online Application
(click here)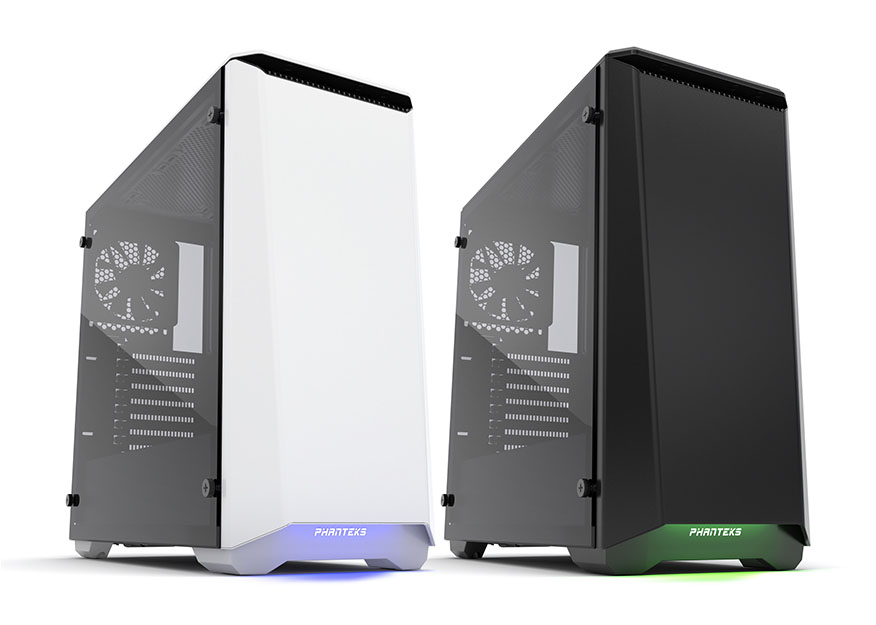 Legend PC BLADE II Gaming Rig has been beautifully designed around a black and white theme. You can select your preferred case between a black case or white case. All the components have been selected as they have both black and white only colouring which give the over all design a beautiful modern feel. The case adds a small amount of RGB lighting in the bottom front, around the power button and a single internal LED strip which allows you subtly colour the machine with your preferred lighting colour or set it to one of many special modes which will cycle through a range of colours. The Blade has great performance allowing you to play everything you want in high quality with an awesome frame rate. With the BIG fan air cooler the processor is keep cool while you are pushing it to the extreme. The system will boot in only a few seconds so you get up gaming ultra fast (no time to make a coffee).




CASE

Phanteks Eclipse P400S Mid Tower Case


Silent Edition, Tempered Glass, RGB Lighting, Black or Glacier White Edition (You Choose)






POWER SUPPLY

650w Modular Gold+ ATX Power Supply





PROCESSOR


Intel Core i7-8700k Processor
6 Core 12 Threads, 3.7GHz (Turbo 4.7GHz)





COOLER


120mm Air Cooler





MOTHERBOARD


Z390 ATX Motherboard with RGB






MEMORY


16GB (2*8GB) DDR4-3000+ RAM





GRAPHICS


Nvidia GeForce RTX2070 Graphics Card
8GB GDDR6





SOLID STATE DRIVE


250GB M.2 NVMe PCIe SSD





HARD DISK DRIVE


4TB SATA 3.5" HDD





OPTICAL DRIVE


None





WIRELESS


AC-1200 WIFI PCI-E CARD





BLUETOOTH


BLUETOOTH 4.0






OPERATING SYSTEM


Windows 10 Home 32/64Bit Retail USB
Rig construction time with a premium hardware installation and operating system configuration is typically 3 days plus 48 hours burn-in and testing.
Parts for build constructions are subject to availability.
All images are example only and final build can vary from images.
We are happy to work with you to change the design specs to suit your personal requirements.
7 Reasons to buy a custom Legend PC Gaming Rig from us


Legend NZ Designed and Crafted

The expert design and craftsmanship of our Legend Team is to perfection. No assembly lines as each Legend Custom PC is hand built by expert technicians, crafted to maximize every bit of performance out of your machine with the ultimate care. From cable management to RGB Lighting to Airflow our team spend hours tweaking everything to a legendary level. All system components are chosen for their aesthetics as much as performance so your machine will be the best looking machine you have ever owned as well as the fastest and able to withstand years of hard core usage.

48 Hours Legend Testing

Before shipping your Legend Custom PC our expert technician's rigorously test for performance and stability issues. Our legendary team of technician's test with a series of stress-tests and benchmarks that test the whole system under load for 48 hours. If problems are detected, then parts are replaced or system adjusted and testing begins again so you know that your new machine is ready to be pushed to its maximum without fault.


3 Year Legendary Warranty
We craft our Legendary PCs to be built tough and are built with only the highest quality hand-selected premium components to maximize system performance and reliability. This means we can stand behind our Legendary PCs with a Legendary 3 years' parts and labour warranty at no additional charge to give you peace of mind.


Legendary Free Shipping
Every one of our Legendary crafted PC receive quality packaging, including original case boxing and foam to hold all components securely in place. We wrap the PC in plastic and fill all gaps around it with bubble wrap. We then ship your PC using our trusted courier with full tracking anywhere in New Zealand including rural absolutely free.

Free 1 Year Antivirus
All Legend Custom Systems come with our Legendary managed endpoint Antivirus. This not only protects you from all those nasties on the internet but allows us to monitor your antivirus is running correctly, updating and view detected infections to make sure they have been dealt with correctly. We can also make adjustments to firewalls and scan settings from our portal. If your antivirus is not running right or you need firewall changes these are all made free of charge by our expert technicians, just give as call or email.

Legend Lifetime Support
Every Legend PC comes with lifetime support by our legendary expert technicians. This means we are here for you and the system with free phone and email support along with free remote support under 10mins. All our systems come with free remote support time to help get your machine setup or fix a software bugs. Our team strives to resolve any issue with your Legend PC as quickly and efficiently as possible this is our commitment to helping our customers.

Official Legend Cap
Once you purchase one of our Legend PCs you have joined an elite team of legends and as such we will give you one of our Legend Caps free to prove you are a legend and to make all your friends jealous when you thrash them on your new Legend PC.
---
Site by Silicon Dream
Legend PC © 2019
All prices are shown in New Zealand Dollars and include GST unless otherwise stated.